Online vehicle verification in Punjab and Pakistan has become a blessing for car owners as it saves your money and effort in many ways.
However, the tiring process of vehicle identification verification consisted of many stages where you had to pass from the cumbersome process of paper verification and the owner's details.
Online Vehicle Verification In Pakistan
Recently, the government of Pakistan, particularly of Punjab, took a great initiative in its support of e-governance.
For this, they are transforming the traditional procedures leading to many mismanagement issues. The automated verification has provided convenience and authentication for the owners of the vehicles in Pakistan.
In this article, we'll provide you with the detailed process of online vehicle verification in Punjab. Let's start!
What Is Vehicle Verification?
Punjab vehicle verification online is required when you buy a used car. In other words, when another person, and not a company, sell you a used car. You don't buy a brand new one for various reasons like your budget isn't enough and you can't afford a new car for your convenience.
Online vehicle verification Punjab provides you with complete details like ownership, registration number, how many times it has been transferred, and token tax information.
Finally, getting proof of vehicle before making a final payment may save you from fraud and scam activities.
Why Is Vehicle Verification Important?
The authentication of vehicles like cars, tractors, and motorcycles has become as important as buying a new vehicle for your daily convenience. Due to the rise in demand for personal vehicles in metropolitan cities and other cities of Pakistan, the verification process has become a necessity as It provides you with the history of the car.
For example, you will find information about the registration, owner's details, toke tax details, and other important information.
How To Verify Your Vehicles?
Excise, Taxation, and Narcotics Department provide the verification services in each of the provinces of Pakistan. In addition, each region has its department related to online vehicle verification in Pakistan.
Visit the website and enter the registration number of your car. You will receive information like Car registration number, tax information, owner's details, Chassis number, and engine number.
Here are links to every excise, taxation, and narcotics department in each province, including Islamabad Capital Territory, where you can check all details associated with your car. Online vehicle verification in Pakistan can be checked from:
For Baluchistan, you've first to visit the website and download the form, or you've to see their office personally. After filling out the form, you'll receive all the details of your vehicle.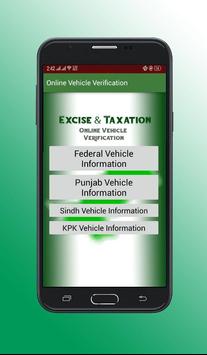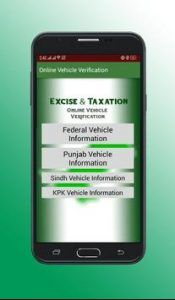 On the other hand, you can check details via SMS service. For example, send the registration number of your vehicle to 8785. After a few seconds, you'll receive all elements of your car.
Moreover, you can download Punjab Excise & Taxation app to verify your vehicle online and via the app. You need to download the app from the Google Play store.
After that, enter the registration number of your vehicle and a screen with all details will appear on your mobile ultimately.
You can also check M tag registration in Pakistan using an application of One Network Mobile Application.
Conclusion
Online vehicle verification in Pakistan has made the process pretty convenient and affordable, saving vehicle owners a lot of trouble and money. All you need to know is the registration number, and you'll receive the history of your car until now.
For more information, don't hesitate to contact our team, they'd love to help you.