Home décor in Pakistan has always been a favorite hobby of women, be it a housewife or the working lady. We always buy new items to give a unique look to our homes. The home interior reflects your ideas, personality, values, and culture and women take special care when it comes to embellishing their home sweet home.
We always try our best to keep up with the ultra-modern trends while preserving our social and cultural values. Moreover, the adornment must be such that the privacy of everyone is maintained.
In addition, the setup of your home must be such that moving around in your home is quite easy and nothing gets in your way or disturb your movement in your home.
A home is a place where everyone feels connected and we grow with our dreams and family. Home decoration is the biggest part of the memory whenever someone feels nostalgic and recalls their memories in their mind.
Home decor must be comfortable and aesthetically pleasing. However, one doesn't need to décor their home on a heavy budget.
Instead, you can use the old furniture and make some DIY changes to it to make it more attractive and comfortable at the same time.
We'll provide you with some awesome ideas on how to decorate your home at the lowest possible budget and in the minimum amount of time.
Living Room Decor Ideas
The living room is considered the nucleus of the house where everyone gathers to share their thoughts, and experiences and have fun with their family.
It's a common room where memories are made from the morning till dinner at night. So, one must be keen to know how one should decorate their living room.
The most attractive color for a living room is grey which makes your room quite spacious, making it cozier.
Moreover, the interior design of the living room must be compatible with the room size and the color theme of the wall. A central unique rug is an important part of this decoration.
Bedroom Ideas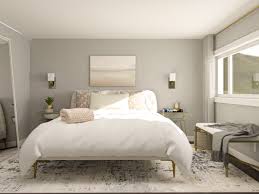 The aura of the bedroom demands to be cozier, relaxing, and warming for maintaining your privacy and giving you a comfortable feeling. The bedroom ideas vary from each other depending on the age group.
The rooms for the children must be brightly colored with wall paintings and a lot of storage for their study and play stuff.
For this, the camouflage tables will work best. The bedroom interior design for the kids must be minimalist that can be managed easily by the kids themselves.
On the other hand, for the adults and spouses, the white color theme is more desirable than any other color. You need antique-style furniture with more storage and the right furniture, depending on the size of the room.
On the other hand, you can also use some DIY to make your decoration more budget-friendly and creative. These skills help you use your imagination and give a one-of-a-look to your home as you want it.
Wall hanging, wall ideas, and other decoration items from the recycled items accelerate your sense of belonging.
Home Accessories
The choice of home accessories reflects your taste and your personality. The elegant home accessories online or DIY home decor items completely transform the outlook of your home. You may seek to buy luxurious home accessories for your kitchen, living room, or bedroom to give them a more vibrant appearance.
So, you can decorate your homes as you want after reading this article. If you want to know more about home décor in Pakistan, don't hesitate to contact us. We'd love to help you.