GIGA MALL in Islamabad is the largest shopping complex where you find every luxury of life, from world-class brands to the most fabulous restaurants, food courts, and the most entertaining Cineplex and kid's play areas.
Although there're several shopping centers in and around Islamabad where you find everything you need quickly, Giga Mall is the epitome of the most luxurious shopping experience with its 200+ brands.
Moreover, Giga Mall has become a hotspot for shopaholics and entertainment-loving kids and adults alike. Furthermore, it offers profitable investors by bringing handsome Returns on Investment (ROI) with the excellent potential for capital development every year.
So, let's find out the most imperative things about Giga Mall and why it has become the most visited shopping complex in the twin Cities.
Giga Group Of Giga Mall
Giga Mall Islamabad is a project by Giga Group, known for its many Multinational Companies in Bullion Trade, the textile sector, and the real estate sector. An icon in Pakistan and the United Arab Emirates (UAE), Giga Group is known for its mega-projects which speak volumes of its credibility and reliability considerably.
Haji Abdul Rahim Pardesi
Haji Abdul Rahim Pardesi, CEO and owner of Giga Group, initiated his endeavors towards achieving excellence in the textile sector in 1956. To deliver the best services and create substantial investment opportunities due to his unmatched business acumen, the Government of Pakistan awarded them with the highest civil award of Tamgha-e-Imtiaz as claimed by the Giga Mall.
His grandson, Mr. Najeeb Amin Pardesi, is the owner of this superb commercial building, under whose leadership the Giga Group is flourishing and making progress to continue providing excellence to the people of Islamabad. Besides, Gold Crest View I and Gold Crest View II are the groundbreaking projects of Giga Group.
Projects of Giant Giga Companies
Giga Group has earmarked many remarkable projects in the United Arab Emirates and Pakistan, particularly in Islamabad. Here is the list of completed projects of the Giga Group of Companies.
Gold Crest View / Gold Crest View 2
Gold Crest Executive
Pearl Residency
Al Najeebi Bazar and Al Najeebi Electronic Bazar, Karachi
Canyon Views Islamabad
Crescent Bay, Karachi
Defense Residency, Islamabad
D Mall Islamabad
Giga Mall Islamabad
Gold Crest Souq Lahore
Besides these completed projects, the Giga Group is also working on some other projects to revolutionize the real estate sector in Pakistan. Check out the following ongoing projects!
Gold Crest Views Islamabad
Gold Crest Highlife
Giga Mall Extension
In this article, our focus is only on Giga Mall – a mega project in the heart of Islamabad.
Giga Mall – A Loadstone of Deluxe Shopping Experience
The remarkable Giga Mall was launched in 2016 by CEO Najeeb Pardesi, who aspired to provide an unparalleled one-stop shopping experience in twin cities.
Ultimately, this project was hugely appreciated by the residents and investors of Islamabad and Rawalpindi. Cherishing this admiration, the Giga group took on the extension of the Giga Mall to provide ultra-modern services for the shopaholics.
Giga Mall Location
Most importantly, the prime location of this mixed-use building is the main reason behind its most-visited place in Islamabad. Located at the heart of DHA Phase II along the Grand Trunk Road brings several visitors and shopping-loving people towards this place.
Giga Mall Timings
The Giga Mall remains open seven days a week for twelve hours, from 10 am to 10 pm. However, the Giga mall timings and days vary for different shops. For example, the outlets remain open from 10 am to 10 pm from Monday to Saturday. On the other hand, Giga Mall Carrefour remains seven days a walk for the exact time.
Similarly, food courts remain open for six days, and most food courts remain closed on Sunday.
However, from Monday to Friday, the timings are from 10 am to 10 pm, and for Saturday, the timings are one hour longer than usual, from 10 am to 11 pm.
Top-Tier Amenities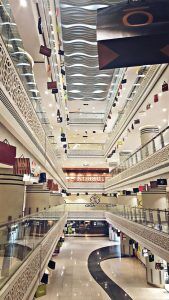 However, this commercial project of Giga Group offers many top-tier facilities for shopping-loving, food-loving, and entertainment-loving people. So let's check them out!
Fun City
Cineplex
Bird Safari
Giga Express Train
Dedicated Car Parking Area
World-Class Branded Outlets
Aromatic Food Courts & Restaurants
Relaxing Hotel Suites
Penthouses
Six-Story Office Tower
267-rooms luxurious hotel
Carrefour
Undoubtedly, Mall is a fantastic commercial real estate project in Islamabad. It's also known as World Trade Center as its affiliated World Trade Association.
Giga Mall Extension
Interestingly, the groundbreaking of this shopping center extension was carried out in February 2021. It has introduced awe-inspiring facilities to meet the ever-growing demands of the residents of twin cities.
In addition, the first-ever high-rise Mosque will change both the shopping fads and the real estate trends in Pakistan.
The two-story mosque with other top-tier amenities like a spacious shopping complex, spas, swimming pools, restaurants & food courts, and duplex hotels and penthouses will bring a unique and lavish experience that is second to none.
Finally, we can say that Giga Mall is one of the favorite shopping malls in Rawalpindi and Islamabad. If you want any further information, don't hesitate to contact our team!